A web based business, based around a hobby, an interest or skill. If that doesn't beat last years socks, I don't know what will…..!
If you're stuck for a ideas for any last minute presents, I have a special offer for readers of the blog and it could well be your best investment for a child, relative or friend (Or even a treat for yourself of course…). This offer ends 25th December, so get your skates on. You could be packing your job in, in 2007!
The people over at Sitesell are letting me offer a "buy one get one free" package, of their tremendously popular web business design software. You don't need to know anything about computers, apart from turning them on obviously, as the software takes you trhough everything from brainstorming the best ideas and themes for your wbe business, to getting the search engines to take note of your site amongst the millions of pages out in cyber space. It really is an "all in piece of kit", as a recent client said to me.
And this little pressie will still be paying off long after the batteries have died down on the latest must have gizmo! (Click here to be taken to the offer page)
(Want a video tour of what SBI is all about? Click here)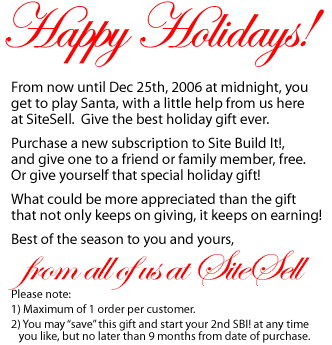 Tags: christmas, last minute ideas, family, finance, business